Self-Employment Assistance
What is Self-Employment Assistance (SEA)?
Self-employment assistance is an underutilized tool in our efforts to create new businesses, drive innovation, and spur economic growth. It is a voluntary program for States and, to date, Delaware, Maine, New Jersey, New York, and Oregon, have active Self-Employment Assistance programs. [Department of Labor]
Senator Wyden has long championed the SEA program, first authoring legislation in 1985 to empower states to provide unemployment compensation to individuals for the purpose of funding self-employment. Most recently, he authored the STARTUP Act to expand current SEA and alter the rules which govern the unemployment insurance (UI) program to encourage more states to allow UI recipients starting their own small businesses to collect their unemployment benefits without the added burden of searching for other full time work. In a victory for would-be entrepreneurs, the legislation was included as part of HR 3630, the Middle Class Tax Relief and Job Creation Act of 2011, which was signed into law in February, 2012.
IN THE NEWS Notable mentions of SEA: New York Times, CNN, Time, The Oregonian, CFED
UPDATE Website Launched for Self-Employment Assistance Programs Resources
How does SEA work? And who can participate?
The program allows aspiring entrepreneurs who would otherwise be eligible for regular or emergency unemployment compensation to draw down those benefits for a maximum of 26 weeks while starting their own business.
The new law gives states new authority and flexibility to use the SEA program to serve the long-term unemployed and allows states to enter into agreement with the Department of Labor to receive grants to create a new SEA program or expand existing SEA program. Specifically, the law:
Provides $35 million in grants for states to create or expand SEA programs;
Allows, for the first time, states to pay out emergency UI benefits (EB and EUC) in the form of self-employment assistance;
Requires the Department of Labor to establish model language for states that participate in self-employment assistance programs. The Department of Labor must also provide technical assistance to grantee states and establish reporting requirements.
Grants will be awarded based upon the percentage of unemployed individuals in the State relative to the percentage of unemployed individuals in all States. No grants will be awarded after December, 2013, but States must apply for grants by June 30, 2013.
Is SEA proven to be effective? Yes! Look to Oregon.
Prior to the authorization of SEA, two self-employment demonstration projects were conducted in the early 1990s in Massachusetts and Washington with positive findings.
Researchers for a Department of Labor evaluation concluded that the self-employment demonstration projects increased the likelihood of self-employment and the amount of time participants were employed. In addition, the demonstration evaluation determined that the structure of the Massachusetts program, which became the model for the future SEA program authorization, was a cost-effective approach to promoting reemployment among workers.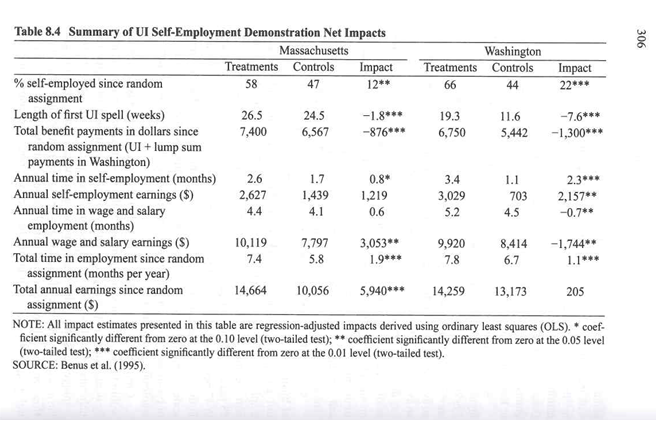 Source: [1] Benus, Jacob M. Self-Employment Programs: A New Reemployment Strategy, Final Report on the UI Self-Employment Demonstration. Unemployment Insurance Occasional Paper 95-4. U.S. Department of Labor Employment and Training Administration. 1995. Available: http://www.eric.ed.gov/PDFS/ED386572.pdf
The most recent, comprehensive evaluation of state SEA programs was completed in 2001. This study provides details on the state SEA programs established between 1995 and 1999 as well as SEA program participants. It also evaluates SEA program outcomes using survey data in three states: Maine, New Jersey, and New York. Based on a group comparison between SEA participants and SEA-eligible (but non-participating) individuals, the study highlights several positive outcomes. First, the analysis concludes that SEA participants were 19 times more likely than eligible non-participants in sample states to be self-employed at any point after their period of unemployment. Second, the study finds that SEA program participants were four times more likely to have obtained any type of employment (i.e., self-employment or wage/salary employment) than eligible non-participants. Finally, SEA program participants reported high levels of satisfaction with self-employment and the training they received as part of the SEA program.
The success seen in Oregon should make for a compelling argument for the self-employment assistance program, which has been used in the state since the 1995. According to a survey of SEA participants, nearly half of the successful SEA entrepreneurs in the state have created an average of 3.12 new jobs. Pat Sanderlin, who headed the Oregon SEA program for years, estimates that administration of the program costs approximately $100,000 annually.
Last year, Sanderlin conducted an informal "census" of enrollees since 2004 and found that 77 percent were still in business. He also asked for their companies' annual payroll. When he realized the total payroll, Sanderlin was, "gobsmacked." Total payroll came in at $7.8 million—all for a program that costs just $100,000 per year for the state to administer. Revised estimates from 2012 put the total payroll at $10.5 million.
It is well-known that UI is an economic multiplier, but with SEA, the unemployment insurance program can become a job multiplier as well. Yet even with modest administrative costs, SEA programs have yet to take off. This is often due to a simple lack of information about the program's existence. And in times of budget cuts, starting any new program no matter how minimal the cost, can often be an uphill battle. But due to new legislation, states now have $35 million in incentive money and the guidance and assistance of the Department of Labor to create or expand their own programs.
States can use this program to truly reshape the face of unemployment and the federal government is giving them the money to do so. Guidance issued by the Department of Labor provides step-by step instructions and background information to assist interested states in applying for their share of the $35 million in new SEA-promotion dollars.