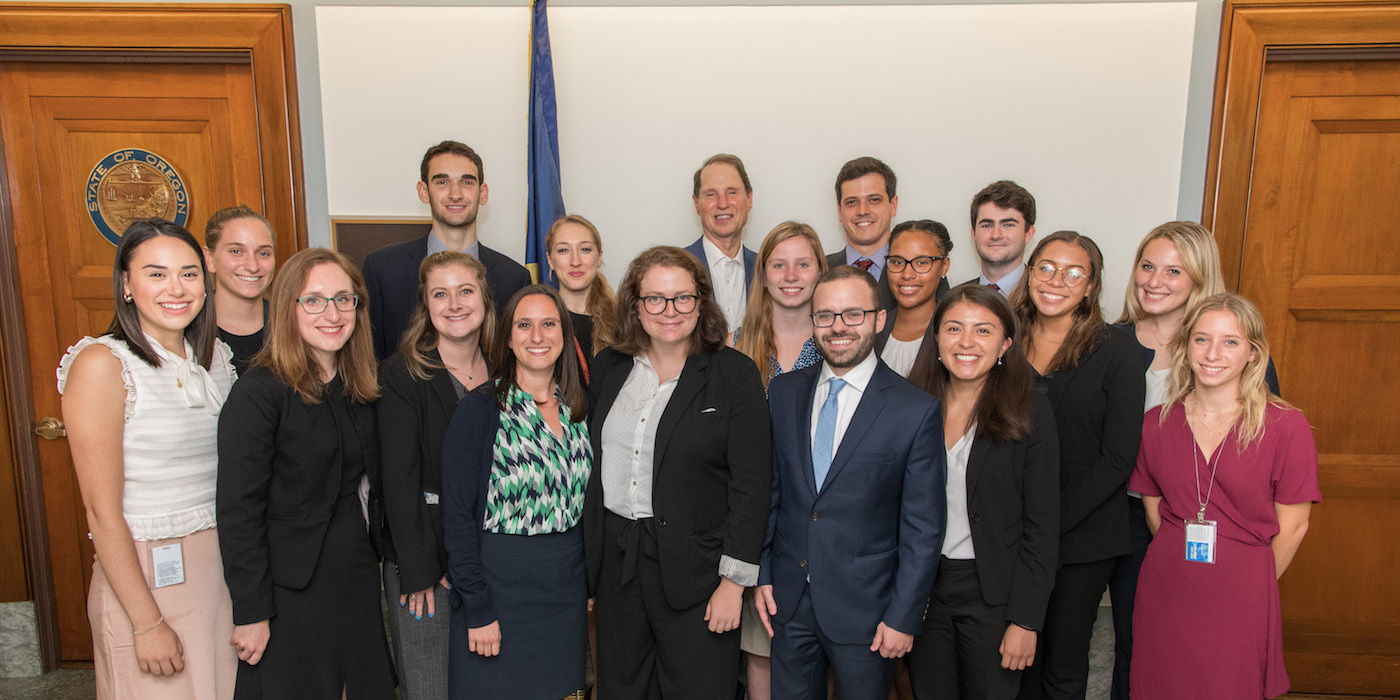 Internships
The application deadline for Summer 2021 internships in both the state and DC offices has passed; we are no longer accepting applications for this session.
The Fall 2021 internship application deadline is July 1, 2021.
NOTE: due to ongoing COVID-19 restrictions, the internship program may be subject to change. Please continue to check this page for updates.
Senator Wyden offers internships in his Oregon state and D.C. offices for college students, recent college graduates, and others looking to gain experience working on legislative matters. The purpose of the program is to give interns firsthand knowledge of the way in which a Senate office operates on a daily basis, to observe the legislative process at the federal level and to develop research skills related to public policy.
The basic internship program consists of four components:
Day-to-day operations: Responsibilities include assisting full-time staff in responding to various constituent requests, updating computer records and drafting general correspondences.
Observing the legislative process: Responsibilities include assisting full-time staff in preparing briefing summaries, observing floor proceedings and attending meetings related to specific legislation.
Research: Responsibilities include assisting full-time staff in developing detailed responses to constituent concerns and policy questions. The intern will be exposed to a variety of primary and secondary research sources, including the Library of Congress, federal agencies and affiliated organizations.
Individually assigned projects: Interns will often be given the opportunity to assist with a special project. The projects will vary according to the intern's interest and the needs of the office.
Students are able to receive college credit for participating in the program.
Applications for summer state office internships are accepted beginning in January and the recruitment process begins in March; however internships are offered year-round and generally match up to academic schedules.
Individuals interested in applying for an internship in Washington, D.C., or an Oregon state office should fill out the intern application form below.
Creating Opportunity Internship (COIN) Program
Senator Wyden offers a limited number of paid internship positions year-round in his D.C. office. The Creating Opportunity Internship (COIN) Program provides the experience of life on Capitol Hill to individuals from underrepresented communities who otherwise might not be able to afford the opportunity.
If you are interested in applying for a position in the COIN Program, please fill out the form below. Please note that Oregon residency or strong ties to Oregon are preferred.
Please contact the D.C. Intern Coordinator at (202) 224-5244 or internships@wyden.senate.gov with questions regarding Senator Wyden's D.C. internships, and contact the State Intern Coordinator in Portland at (503) 326-7525 or constituentservices_@wyden.senate.gov with questions regarding Oregon district office internships.